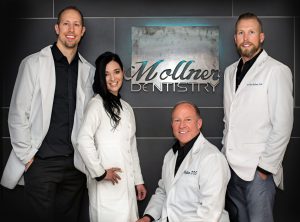 Dear Patients of Mollner Dentistry,
We apologize about the inconvenience COVID-19 is causing for our patients and how it affects our ability to practice dentistry.
In regards to COVID-19, Governor Jared Polis has mandated all dental offices close to any elective procedure under Executive Order D 2020 009. Under this order, all dental practices and practitioners MUST cease all elective or non-emergency procedures until at least April 14, 2020. The only procedures or surgeries that are permissible under this Executive Order are those that address the following:
There is a threat to the patient's life if the surgery or procedure is not performed;
There is a threat of permanent dysfunction of an extremity or organ system if the surgery or procedure is not performed;
There is a risk of metastasis or progression of staging of a disease or condition if the surgery or procedure is not performed; or
There is a risk that the patient's condition will rapidly deteriorate if the surgery or procedure is not performed and there is a threat to life, or to an extremity or organ system, or of permanent dysfunction or disability.
If you are having a dental emergency or just need to speak to someone about your oral health, you may email Dr. Ben at drbenmollner@gmail.com. It may be possible to call certain medications to a pharmacy such as antibiotics if we deem it necessary. This can often buy us some time before we move into any emergency procedures, and help keep pain levels low.
If you need help with billing or office related items, you can email our front desk staff at mollnerdentistry@gmail.com
Thanks, and we hope to get back to serving you in our office as soon as we are allowed to do so.
-Dr. Ben
YOUR SMILE is one of the first things noticed by others. It is a reflection of happiness and health, and a brilliant smile can be a constant source of self confidence. We take pride in healing your smile, from damaged or missing teeth to cosmetic smile makeovers, and keeping your smile as healthy and radiant as you deserve. Everything we do is based on a premise of health and doing the right things for you and your smile. Family team Dr. Ben Mollner, Dr. Rena Mollner, Dr. Nate Mollner, and Dr. Mark Mollner welcome patients of all ages, and will work closely with every patient to develop a thorough and custom plan for maintaining years of healthy teeth. We are capable and comfortable doing nearly every facet of dentistry – from implants and surgery to advanced dentistry, cosmetics, fillings and hygiene. Our main focus is truly a happy and healthy patient. We strive to make our office a comfortable place to be, and your experience as positive as possible. We always welcome new patients, and referrals are a huge compliment. Come visit us to begin your transition to a healthy smile.