Mollner Dentistry is pleased to offer 2 locations for your convenience. All doctors rotate through both locations, so you may see your favorite doctor at either location. Please refer to the schedule below to find the doctor's schedule for each office.
Our Capitol Hill office is located near downtown Denver, 4 blocks south of the Capitol Building.
Our Greenwood Village office is located in a new medical office building adjacent to the Landmark Theater and Shops.
Scroll down for parking and location information specific to each office
Capitol Hill: Mollner Dentistry At The Beauvallon
975 Lincoln St.  Suite #203     Denver, CO 80203
We are located in the North Tower of The Beauvallon building at 975 Lincoln St. We are on the second floor of the North Tower in Suite #203. You may access the second floor by entering the North Tower main lobby and taking the elevator up, or by entering the garage entrance on the second level of the garage parking. Free parking info below, keep scrolling >

View Larger Map
Parking: Free parking is available in the North Garage. The Beauvallon has two garage entrances on Lincoln St. and the North entrance will take you to our parking. Proceed up the ramp to the second level. You may park in any unreserved spots and there is a brown door next to the "Mollner Dentistry" banner that gives direct access to our hallway.
Click the photo below to enlarge the parking diagram.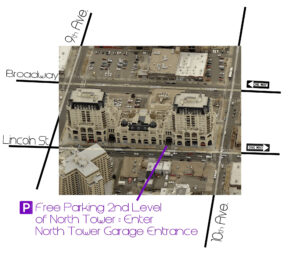 Phone: (303) 578-6684
Fax: 303-861-0055
Hours:
Monday – Thursday 8am – 5pm
Friday 8am to 1pm
Sat/Sun Closed
Address:
975 Lincoln St.
Suite 203
Denver, CO 80203
Greenwood Village: Mollner Dentistry At The Landmark
5351 S Roslyn St.  Suite #303     Greenwood Village, CO 80111
Our Greenwood Village location is in a red 3 story building adjacent to the Landmark Theater and Shops. Our building is just across from Comedy Works in the shops, and the parking lot around the building is free for patients to park in. We are located on the third floor, directly in front of you as you exit the elevator. >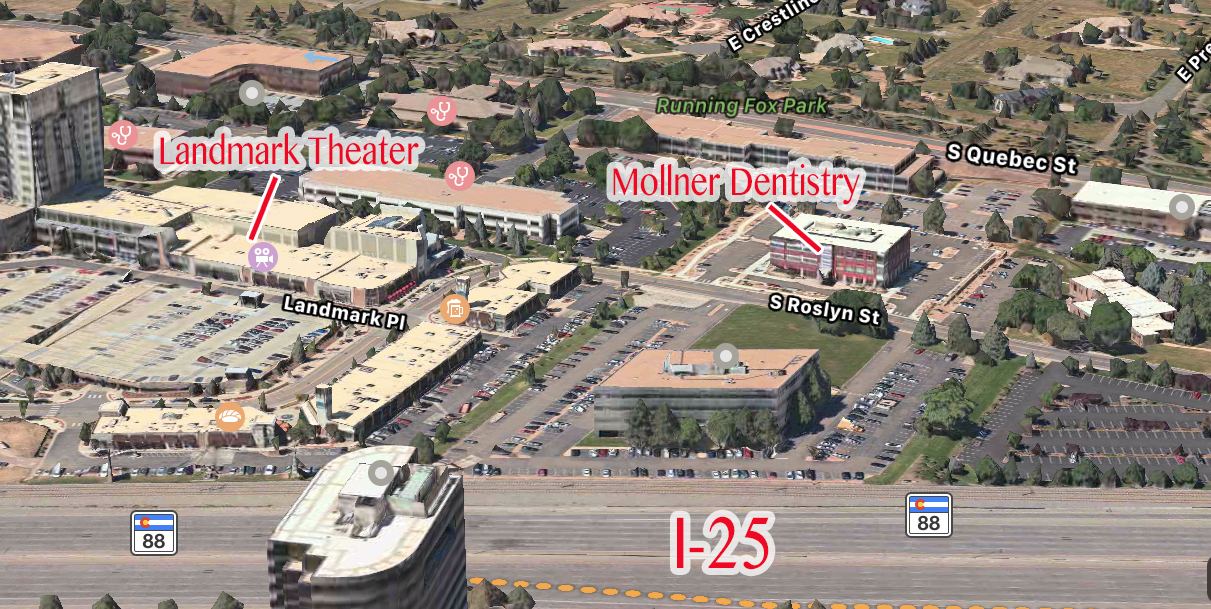 Phone: (720) 619-0008
Fax: (720) 384-0700
Hours:
Monday – Thursday 8am – 5pm
Friday 8am to 1pm
Sat/Sun Closed
Address:
5351 S Roslyn St.
Suite 303
Greenwood Village, CO 80111