We thank you, Denver –  for voting Mollner Dentistry as 5280 Magazine Top Dentist for 2014, 2015, 2016, 2017, 2018, 2019, 2020, 2021, 2022, and 2023! You have certainly helped us to become our best, and we are proud to serve you!
YOUR SMILE is one of the first things noticed by others. It is a reflection of happiness and health, and a brilliant smile can be a constant source of self confidence. We take pride in healing your smile, from damaged or missing teeth to cosmetic smile makeovers, and keeping your smile as healthy and radiant as you deserve. Everything we do is based on a premise of health and doing the right things for you and your smile. Family team Dr. Ben Mollner, Dr. Nate Mollner, and Dr. Rena Mollner,  welcome patients of all ages, and will work closely with every patient to develop a thorough and custom plan for maintaining years of healthy teeth. We are capable and comfortable doing nearly every facet of dentistry – from implants and surgery to advanced dentistry, cosmetics, fillings and hygiene. Our main focus is truly a happy and healthy patient. We strive to make our office a comfortable place to be, and your experience as positive as possible. We always welcome new patients, and referrals are a huge compliment. Come visit us to begin your transition to a healthy smile.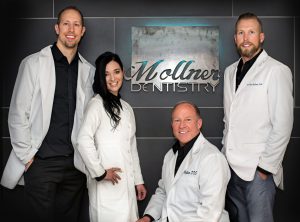 We are proud to treat 7000+ patients in Metro Denver!
In order to serve this large of a patient population, it is essential for us to maintain a very precise schedule. For this reason, we implement a strict 48 hour cancellation policy. If you must cancel or change your appointment, there is no fee if canceled with more than 48 hours notice.
Appointments cancelled with less than 48 hours notice will be billed at $75/hour cancellation fee.
We do offer exceptions to the cancellation policy for emergencies with proper documentation. Documentation is not necessary to cancel, but please email us within a few weeks of settling your emergency to discuss steps to request cancellation fee waiver.
Our goal is not to punish last minute cancellations – but we hope you can understand that we employ highly trained clinicians and assistants who are on stand-by specifically for your appointment. Cancellations and no-shows waste precious time and cost for our team to remain on standby, and also blocks other patients ability to schedule with us. Our cancellation fees help to offset the cost of our support staff.
Thank you for your understanding!