Dear Patients of Mollner Dentistry,
We are happy to announce that we are currently open and seeing patients at both locations with some limitations and protocol changes in response to COVID-19. The primary change is how we are handling check-in and chair side protocol to help curb the spread of the disease.
You will be required to wear a mask or face covering inside the building, and will remove it once you are seated in the dental chair.  Once inside, you will need to respond to a few questions regarding your recent health as well as a temperature and wellness screening. If you do not pass the screening we will need to reschedule your appointment. If you have any evidence of personal illness or have been in contact with someone who has, we will ask you to please reschedule for a future date.
Our PPE (personal protective equipment) has been upgraded in coordination with new CDC recommendations and we are taking extreme measures to protect our patients and our staff from disease transmission. We feel very confident in our current protocol and patients are responding extremely well. We appreciate all of your help and understanding.
We are doing our best to get our cleaning/hygiene patients scheduled, we currently have 4 hygienists available to see patients for cleanings but are making up for appointments we were not able to complete during the stay-at-home mandate. Please call us if you would like to get on the schedule, and we will do our best to find the soonest available appointment.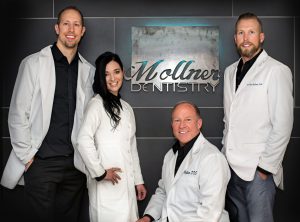 YOUR SMILE is one of the first things noticed by others. It is a reflection of happiness and health, and a brilliant smile can be a constant source of self confidence. We take pride in healing your smile, from damaged or missing teeth to cosmetic smile makeovers, and keeping your smile as healthy and radiant as you deserve. Everything we do is based on a premise of health and doing the right things for you and your smile. Family team Dr. Ben Mollner, Dr. Rena Mollner, Dr. Nate Mollner, and Dr. Mark Mollner welcome patients of all ages, and will work closely with every patient to develop a thorough and custom plan for maintaining years of healthy teeth. We are capable and comfortable doing nearly every facet of dentistry – from implants and surgery to advanced dentistry, cosmetics, fillings and hygiene. Our main focus is truly a happy and healthy patient. We strive to make our office a comfortable place to be, and your experience as positive as possible. We always welcome new patients, and referrals are a huge compliment. Come visit us to begin your transition to a healthy smile.