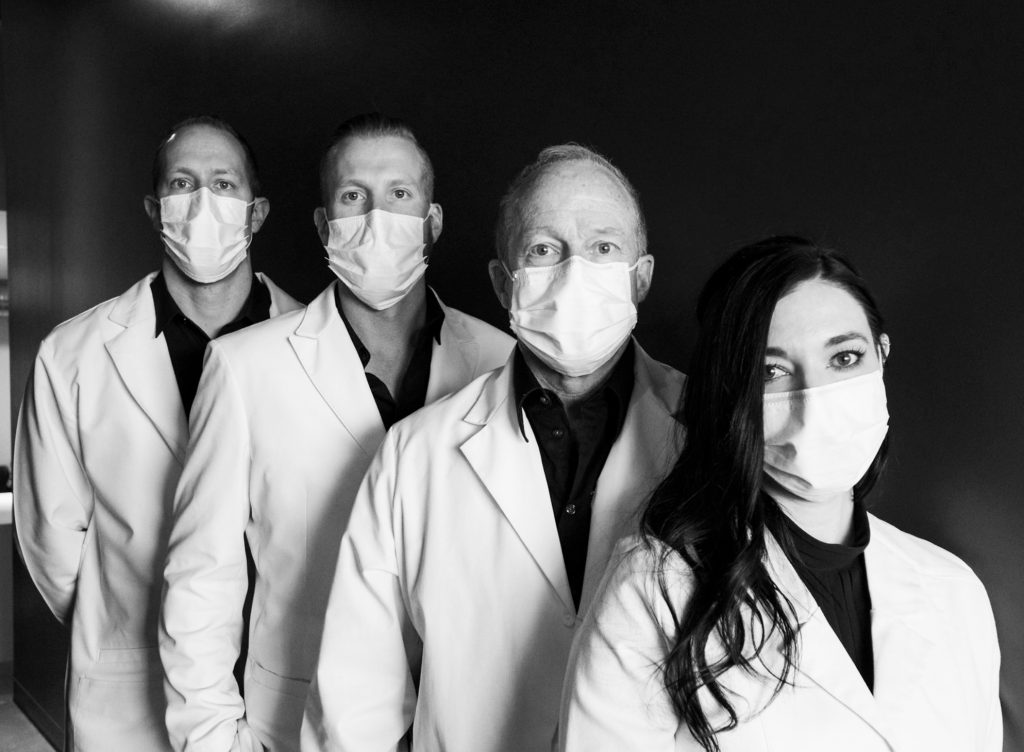 At Mollner Dentistry, we truly are a family affair!
Ask for "Dr. Mollner" in our office, and you will get 4 responses. Husband-and-wife team Drs. Ben and Rena Mollner are joined by Dr. Nate Mollner, and their father, Dr. Mark Mollner. The Mollners set out to create a dental experience that was unlike any they had seen before. Their goal was to create a place that was as stylish as it was comfortable, clean, relaxing, and easy to be in.
Mollner Dentistry's roots can be traced back nearly 30 years when Dr. Mark first opened up shop in Colorado Springs. Today's office was built from the ground up by Drs. Ben and Rena, and Dr. Nate brings to the table the most current and cutting edge dental theory and technique.
Dr. Mark first bought a dental practice in Colorado Springs in 1987. His oldest son, Dr. Ben Mollner met his wife – Dr. Rena Mollner – in dental school and joined his father in practice in Colorado Springs. As the practice grew, Dr. Mark's office could not keep up with demand, and in 2010, the Mollner's discovered a large, new, beautiful space in Denver that would be perfect for their new practice, and Mollner Dentistry was born. Along with this wonderful new office, came a vision. The Mollners had a goal to create their dream dental practice. The perfect opportunity to make every detail the way they had always envisioned it. Ultimately we had to ask ourselves a question: What do we need in order to do the best dentistry possible? This is a question many doctors do not get to answer. Usually when you start a dental practice, you inherit old equipment and learn to work with it, love it or hate it. Wouldn't it be nice if we got choose our own perfect custom set-ups for every doctor? How much better would our work be if every piece of equipment was exactly the way we wanted it. We now had a reason to purchase the latest and greatest equipment that modern dentistry has to offer.
All four doctors are big technology buffs and love to use the most cutting edge advancements available in dentistry. We started with patient comfort. The dental chairs are double reclining, ultra-leather with memory foam padding. Each patient has their own personal flat-screen monitor with Apple TV and ability to see digital X-rays and intraoral pictures on the fly. Next we set out to get the best equipment for improving our own dentistry. We have handpieces (drills) with LED lights on the end for better vision, intraoral cameras that show tooth decay on a live video feed of your mouth, the industry's newest and finest sterilzation system, CAD CAM 100% porcelain crown technology (Cerec machine), and a host of other equipment that will allow us to do some of the finest dentistry in the country.
Today, Dr. Mark still maintains his own practice in Colorado Springs, and Dr. Ben and Dr. Rena own and operate the Denver office.  Dr. Nate is a full time partner, joining us from his extensive training at Creighton Dental School in Omaha.  Dr. Mark makes a monthly guest appearance in the Denver office to handle complex surgeries and implants.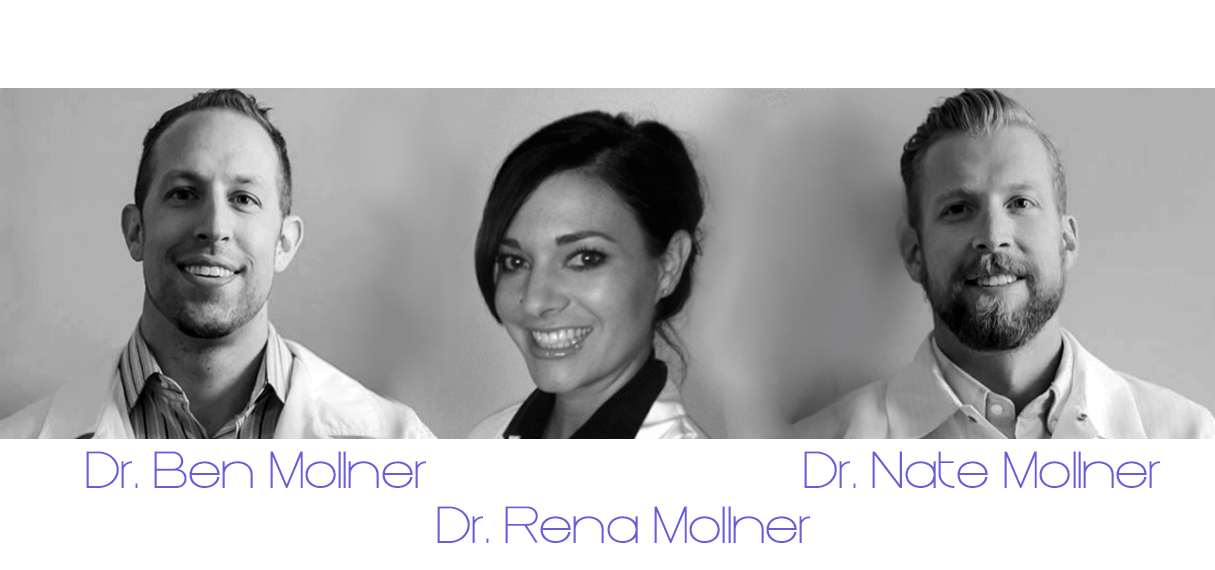 | | | |
| --- | --- | --- |
| Dr. Ben Mollner grew up in Colorado Springs, attending high school at Liberty High. He spent his four years of undergrad at the University of San Diego, graduating with a Bachelor's in Biology. He then returned home to Colorado to earn his DDS (and meet his wife, Dr. Rena) from the University of Colorado School of Dental Medicine. Ben's favorite pastime is art, practicing graphic design and painting. He has shown in several solo art shows in Denver and maintains a website for his paintings at benmollner.com. Ben is also a fan of classic cars, specifically big luxury cars of the 50s and 60s. He is in the process of restoring a 1965 Lincoln Continental. Sports and fitness have always been a big part of Ben's life, both watching (go Nuggets, Broncos, Rocks and Avs!) and playing basketball, hockey, golf, yoga, and riding his cruiser bicycle whenever the weather is good. | Dr. Rena Mollner hails from a small town south of Reno, Nevada. She also moved to Southern California after high school and attended 4 years at Whittier College, a private liberal arts school in Los Angeles. She worked with public health and as a personal trainer before moving to Colorado to earn her DDS from the University of Colorado School of Dental Medicine. Dr. Rena continues her passion for public health by volunteering every month at the Denver Rescue Mission providing dental care for those in need. Rena is an avid reader with a constant rotation of new books, soaking them up just as quickly as she can get her hands on them. She remains a fitness and nutrition buff and is active between the gym, cross-fit, biking, running, hiking, and exploring Colorado. | Dr. Nate Mollner grew up very close with his older brother, Dr. Ben. Also attending Liberty High in Colorado Springs, where he excelled at sports and developed his love for anatomical sciences. He attended undergrad at Creighton University with a bachelor's degree in Sports Medicine, and was the president of Creighton's Pre-Dental society. Before starting dental school, Dr. Nate worked as a personal trainer in San Diego, furthering his passion for anatomy and science, and acquiring a new flame in the art of surfing. Dr. Nate returned to Creighton University to earn his DDS, and finally back to his home state of Colorado where he joined the rest of the Mollner clan, rounding out Mollner Dentistry. Dr. Nate has a self-proclaimed "insatiable thirst" for music. He can often be found at Red Rocks live shows, or at the Ogden and Fillmore when the weather is cold. It is rare to see him without a beat somewhere in the background. He continues to be passionate about surfing, sports, and living a healthy and active lifestyle. |
Dr. Mark Mollner has been practicing dentistry in Colorado Springs for 25 years. He is a Colorado native, born and raised in Denver Colorado and attended Creighton University in Nebraska for both his undergraduate degree in biology and his DDS at Creighton's prestigious dental school. He has served as the president of the Colorado Springs Dental Society and belongs to several local and national study clubs. He is a regular participant in the Colorado Mission of Mercy and donates his time and skills to help the underserved through organizations such as KIND (Kids in Need of Dentistry) and Give Kids a Smile and Colorado Mission of Mercy (COMOM). He is an avid outdoorsmen and sports enthusiast. Dr. Mollner is happily married to his high school sweetheart for over 30 years now. They have two boys who are the pride of their lives. Dr. Mollner loves his patients and loves doing dentistry